(You require Datamaran's Executive Dashboard to use this function)

Datamaran's mention viewer tool allows you to explore how your peers disclose ESG risks, opportunities, and impacts, enabling them to draw on best practices from industry leaders to bolster issue strategy and risk management. This becomes particularly salient when a less mature strategy is employed to address a particular issue, as it can spotlight details like governance, targets, risk practices, KPIs, etc., that can be adopted to improve your management approach.

To find out the market ESG risk disclosing practices, you need to identify which companies are placing a high emphasis on specific topics and on which disclosure document.

The competitive risk heatmaps are a straightforward representation of your peers' disclosure practices and allow you to spot the companies that are placing a high emphasis on the underlying topics of your risk of interest. You can use the mention viewer tool to explore them directly in their reports. This can help you find inspiration on topics you might want to communicate better next year.
To see companies' disclosure on topics:
1. Go to Datamaran's Executive Dashboard
2. Open the overview tab
3. Click on your risk of interest.
4. You will land in the Drivers tab.
5. Open the Competitive risk drivers.
6. Explore the results in the heatmaps and identify the companies putting a high emphasis on your topic of interest.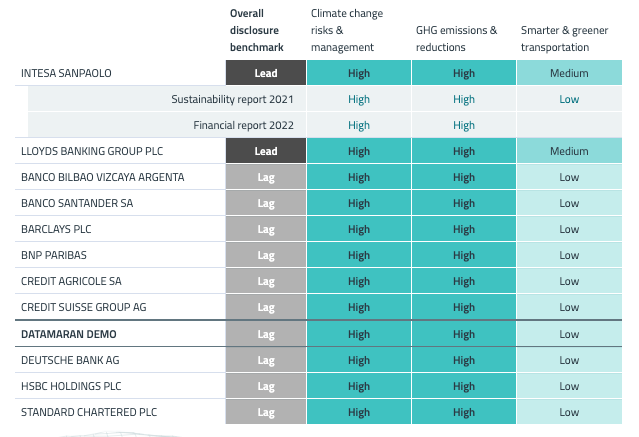 7. Click on the company and the analysis you want to explore. You will be able to see a box with the mentions within the selected report; use the arrows in the bottom right to browse the mentions.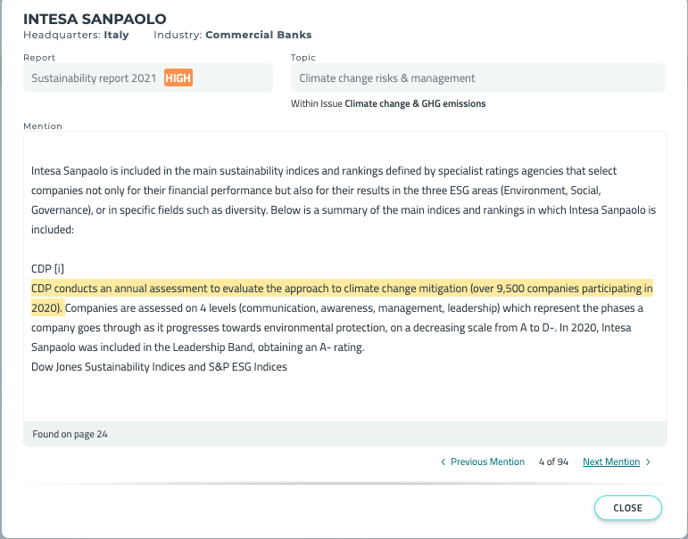 The video below shows you how to do it.